It is an initiative developed in collaboration with Katerina Delakoura and Iro Grigoriadi within peer-to-peer exchange format. It is based on investigating the qualities of merging and coinciding with the substance of the world through sharing personal experiences, movement practices, perspectives and tools.
The notion of
reclaiming space
is the central concept around which the work is organized. Its meaning and a discourse around it are formulated by engaging in the ecosomatic and dance exercises introducing an embodied mode of explaining and documenting practices. Following María Puig de la Bellacasa, we referred to reclaiming as a political work, an ongoing effort of questioning what is given for granted and inserting desirable qualities rendered non-existing
[1]
. Through the physical practice we aimed to open up the processual and sensual aspects of reclaiming. With such toolbox, we started to work in chosen public places, conducting observations, listening sessions, documenting qualities, interfering in urban tissues and being influenced by the weather. Through this process, the figure of a
hypersensitive body
has emerged. We approached it as a medical condition - exposing a transcorporeal, dynamic co-constitutivity between bodies, materials, processes and meanings, pointing towards permeability and resistance - along with a masterful specialization in relational skills of encountering and responsiveness. Hence, within
attuning
to a hypersensitive state of the body we recognized the potential to practice alternative comprehension of the "environment" and the "entity", fostering a sense of care, responsibility, and agency.
"STAYING LOW, REMAINING OPEN TO THE WORLD, BECOMING ATTUNED TO STRANGE AGENCIES"
/Stacy Alaimo · EXPOSED: Environmental Politics and Pleasures in Posthuman Times · Minneapolis 2016/


"THINK ABOUT THAT WORD ATTUNEMENT – IT IS BOTH HEARING WHAT IS GOING ON, REALLY DEEPLY LISTENING TO MAKE SENSE OF THINGS – AND BRINGING ONSELF INTO RELATION WITH WHAT IS HAPPENING."
Following the desire to open up the inquiry and generate a common space of exchange and experimentation we created a workshop proposal. Within the setting of affirmative workshops we wanted to investigate and exchange practices of disobedience and practices of building alternative infrastructures in an everyday life context by tuning into our bodily, sensuous knowledges. Drawing on the notion of reclaiming, we aimed to recognize what constrains us and makes us helpless. At the same time, it opened us towards fantasy and play, following what excites and nourishes us.
As a continuation of the workshop, we carried out an intervention in public space. Within this process, we exposed our needs and sensitivities, learning to negotiate with the existing infrastructure - entering into alliances and noticing when our interests are not aligned. We brought the atmosphere of celebration, installing a game that could trigger the playful process of re-imagining ways of relating as well as rendering the space generous, comfortable and inviting to spend time together, witness, dance, chat, and sleep. The intervention took place on 4th July at Πλατεία Ιωάννη Δούρου in the Metaxourgeio district, next to the Municipal Gallery of Athens. Through our practice, we wanted to break out from the control of the public (state/system) and bring in the notion of commoning (inventing new relations, building a terrain of experimentation).
---
[1]
M. Puig de la Bellacasa,
Matters of Care. Speculative Ethics in More Than Human Worlds
, Minneapolis 2017.
WORKSHOPS at UTOPIA LABORATORY & Self Organized Free Theater EMPROS in Athens
"

TILL YOU CAN'T EXPLAIN IF YOU STARTED THE SPIN, OR THE SPIN STARTED YOU

"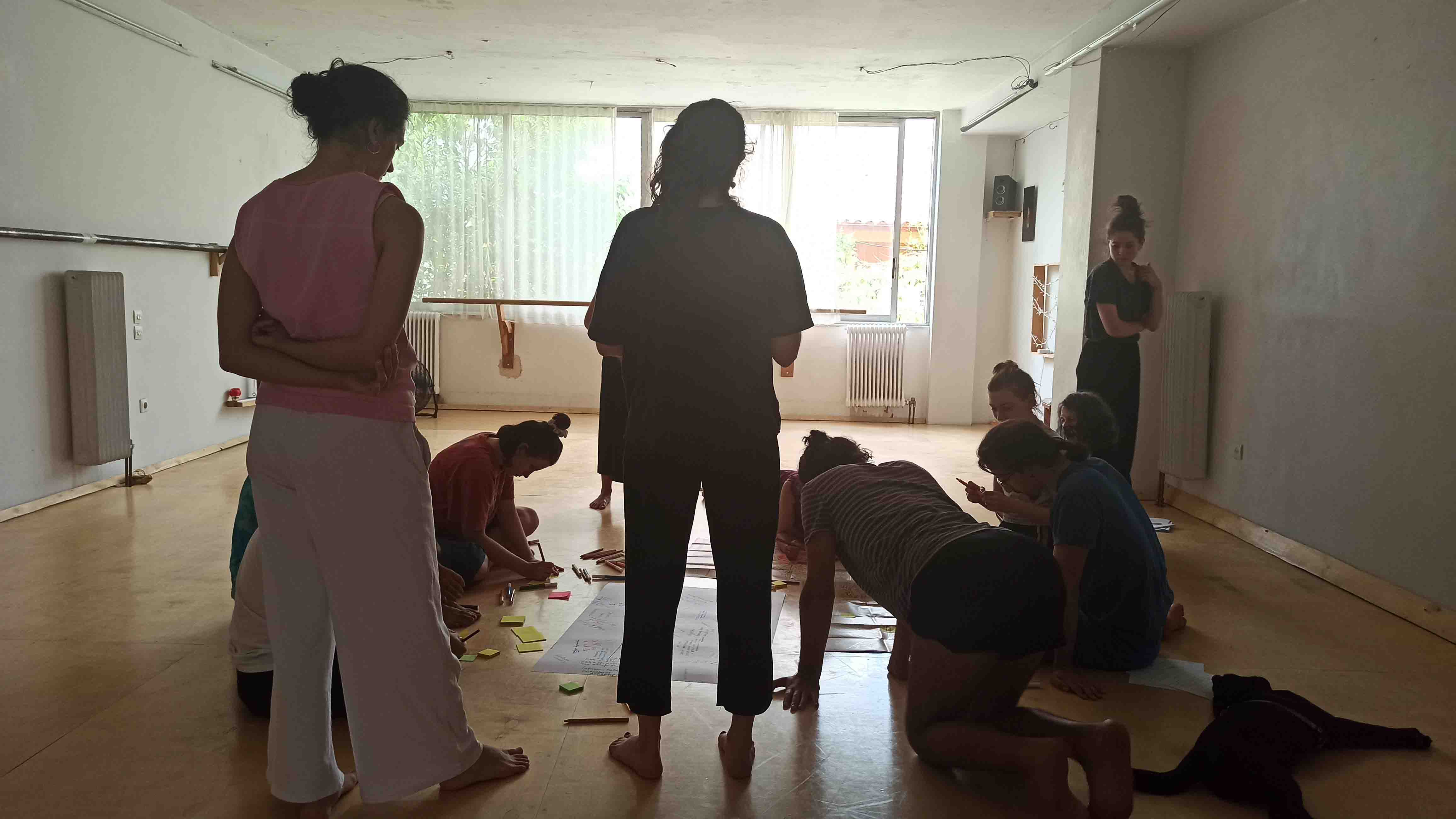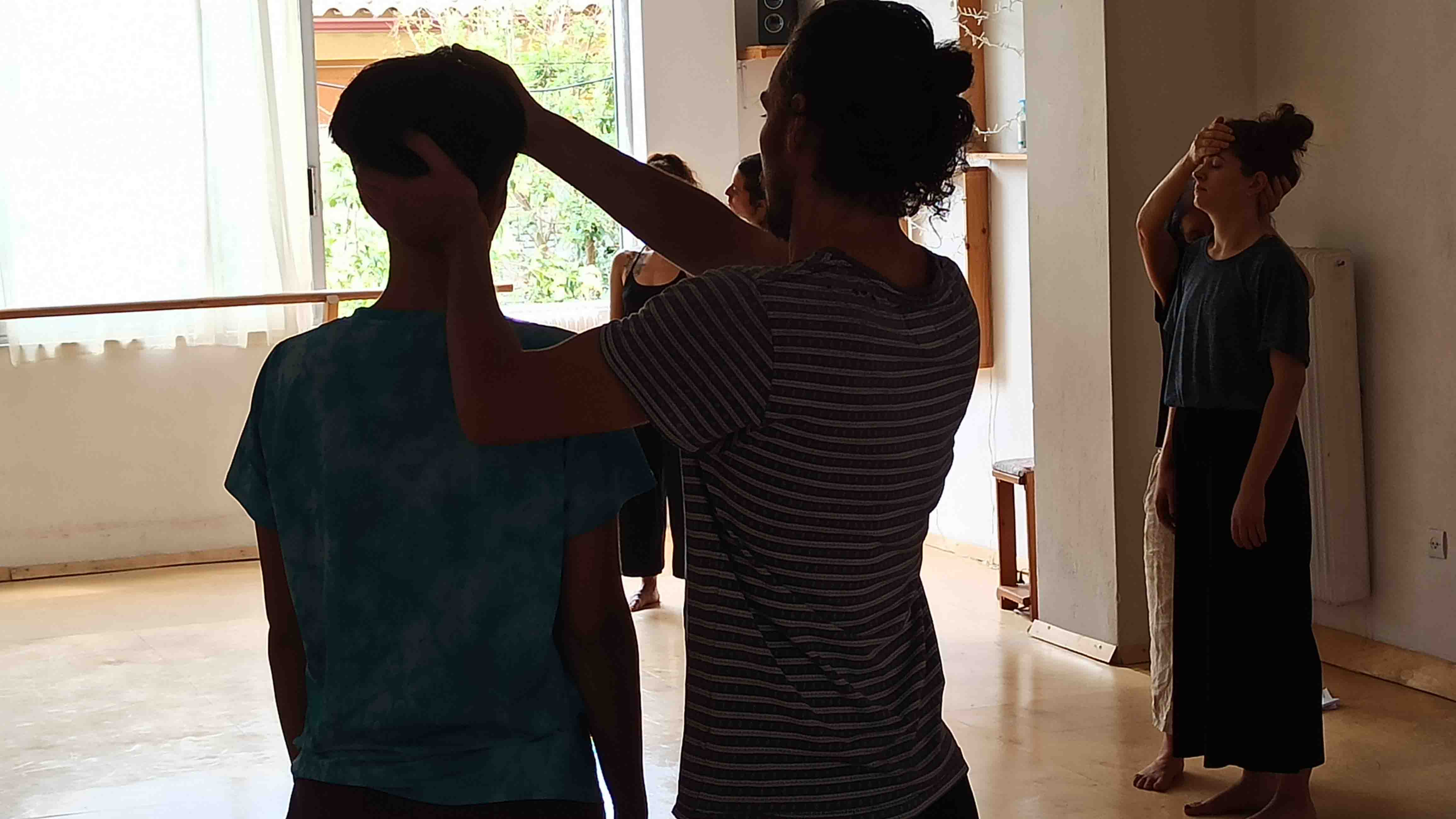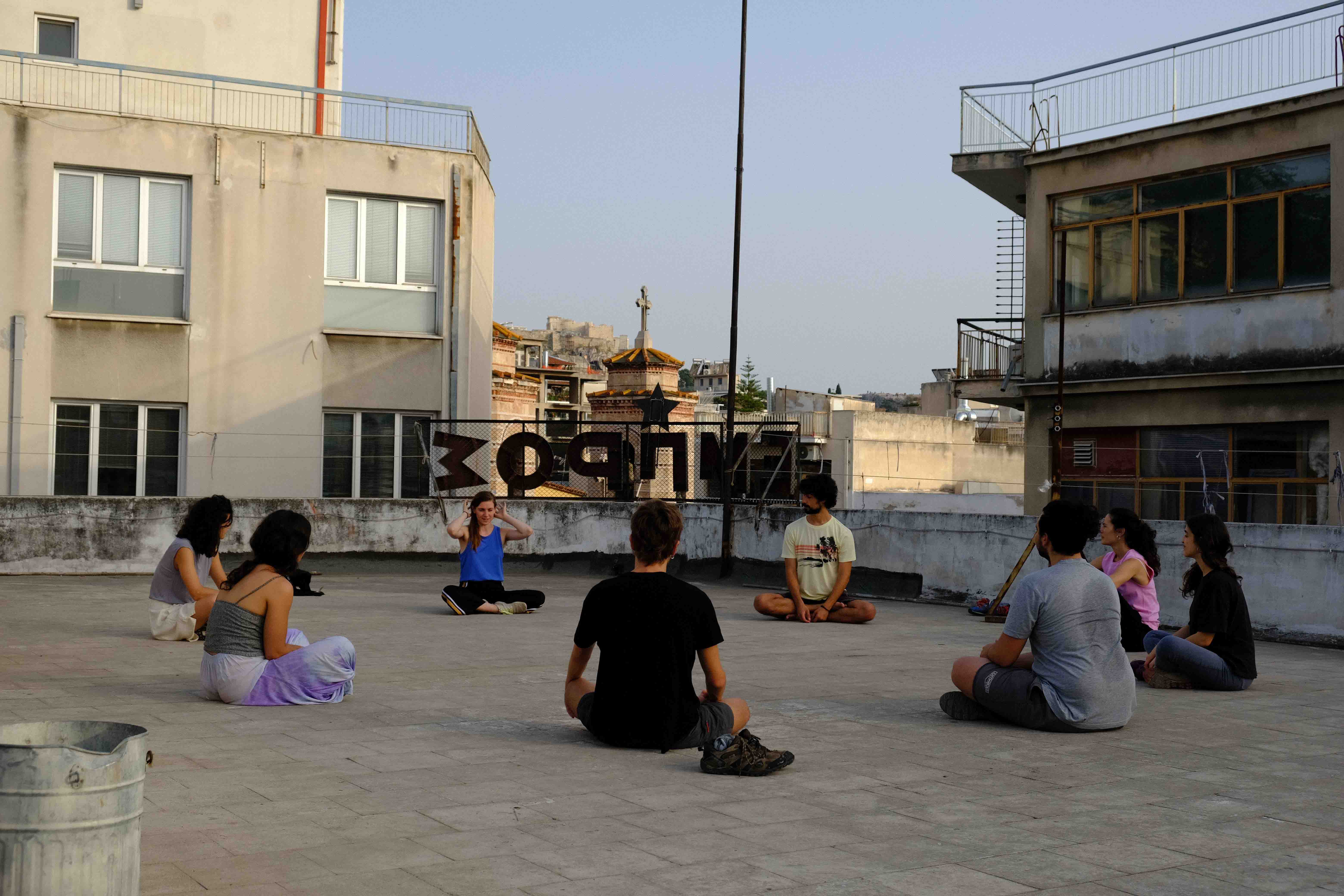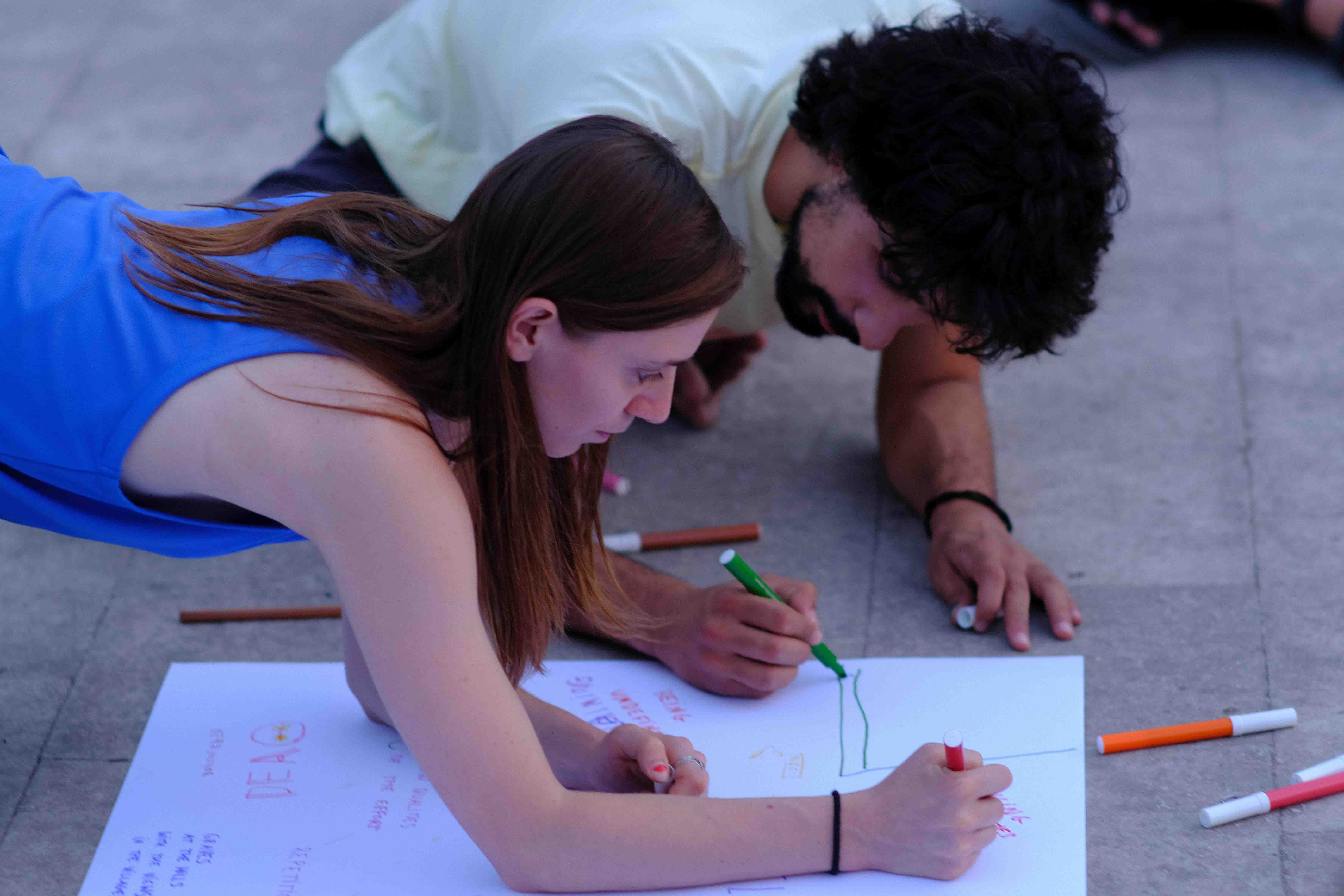 INTERVENTION at
ΠΛΑΤΕΙΑ ΙΩΑΝΝΗ ΔΟΥΡΟΥ
CR
ED
ITS
Initiated by Dorota Michalak

Substantively and energetically the study is nourished by Dorota Michalak, Katerina Delakoura, Iro Grigoriadi, participants of the workshops at Utopia Laboratory and Self-organized Free TheaterEMPROS in Athens. All coincidental encounters, places, weather, atmosphere have a very high impact on the work being a huge resource feeding the study.

Thanks to:
Μυροβόλος Μεταξουργείο, Mariana Kastalia, Ελπίδα Ταξιάρχη, Sunayana Shetty, Stergios Dinopoulos

Documentation:
Sunayana Shetty, Stergios Dinopoulos, Alekos & Christos Bourelias

Poster:
Yiannis Selimiotis


SUPPORTED BY:

︎ Adam Mickiewicz University in Poznań (in the frame of MA thesis in Intercultural Communication)

︎ Beauftragte der Bundesregierung für Kultur und Medien im Programm NEUSTART KULTUR, Hilfsprogramm DIS-TANZEN des Dachverband Tanz Deutschland

︎ Utopia Laboratory in Athens

︎ Self-organized Free Theater EMPROS in Athens


CARRIED OUT:

Utopia Laboratory - Athens (GR), June-July 2021

EMPROS- Athens (GR), June 2021

Πλατεια Ιωαννη Δουρου - Athens (GR), July 2021